Complete Church Websites Created Specifically For Your Church
Choose a design then we'll customize it to match your church's unique personality.
Your church deserves a professional web presence.
We create professional church websites anyone can manage.
Whatever their reason might be, 9 out of 10 would-be visitors will get their first impression of your church based on your website. Now it's your decision what you want to greet them with. A plain, old and outdated website that reeks of neglect because it's hard to manage? Or a proven to work, up-to-date website that perfectly fits your church's personality, makes the visitor feel at home and gets them excited to join your community?
That's what we help you with. To make an outstanding first impression on your website visitors and turn them into your loyal church members. We achieve this with a website that's completely tailored to your church and is really easy to manage, without any technical knowledge. So you can update any staff information, add or remove pages,  share pictures and audio/video of your sermons, create events and much more using only your mouse.
But we also think of your current members when creating church websites. With features like our photo galleries, event system and prayer walls, your members will continue to feel the sense of togetherness long after the sermon has ended. Your community will thrive like never before.
And if there's anything special you'd want to see on your website, all you have to do is ask. We will get to work to develop exactly what you have in your mind. So feel free to take advantage of our 15+ years of experience working with churches all over the world.
Here Are Some The Benefits Each Of Our Church Websites Recieve
And these are just highlights, you will get much more.
Managing your site will be as easy as playing solitaire. With our drag and drop system, you won't need any coding knowledge.
Nowadays, lots of people use their phone to gather information. We make your church websites design mobile friendly.
Share sermons on your website easily. Our unique sermon system allows you to share sermon videos, audio, and text.
Make giving easy for the people. Accept both one-time and reoccurring donations online with your new church website.
Let your church members know about all the upcoming events. An event calendar or list can be added anywhere to your website.
With a simple form, you can display the information you want about your church staff. It will get formatted automatically.
Many hands make light work. You can allow limited access to others, so they can help you with certain tasks on the website.
Keep your members up to date with church news or let them read your pastor's words from the comfort of their home with our blog system.
Boost church attendance with pictures of your members having a great time. With our online photo galleries, you can share the joy of faith.
Increase the sense of togetherness even when your community is apart. With our online prayer walls, your online visitors can send (moderated) prayer requests to your church websites. These requests will be seen by other visitors who can click a button saying they will pray for them. Optionally, the visitors who requested a prayer will get an e-mail notification when someone prays for them. Visitors can also choose to share their prayer request on the church's website anonymously or just send the prayer request to their pastor and not post it on the church's website at all.
These optional features take church websites to the next level.
These features are optional and can be added to any site for an additional fee.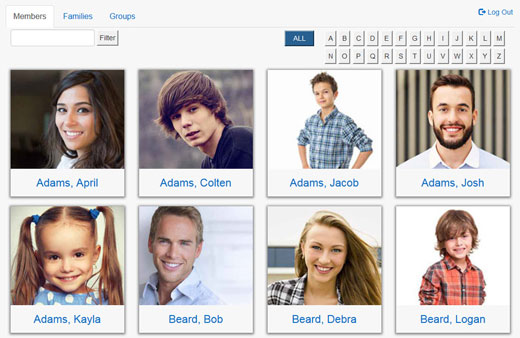 After a year of fine-tuning, we are finally releasing our much sought after Church Member Directory. It contains information about your members and provides a way for them to get known to each other. The directory is safely password protected so only members of your church have access to it. Member information can be updated so your community can stay in touch.