Our goal is to make managing your church's website as easy as possible.
These articles cover various topics to help you manage the website.
Sermons
Events
Staff
Prayer Wall
Page Builder 2.0 (Site ordered after March 2015)
Page Builder (Site ordered before March 2015)
Menu / Navigation
Home Page Slider
Forms
Email
Adding A New Sermon
To add a new server login to your website then go to Sermons > Add New Sermon in the left menu.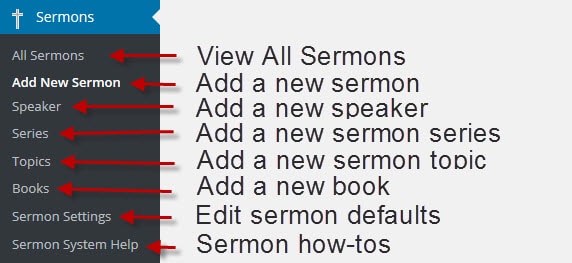 Add Sermon Title
At the very top of the page add the sermon title.

Add Sermon Video
If you would like to add a video add it next. We recommend using videos you've uploaded to youtube or vimeo for the best user experience. To add a video from youtube or vimeo just view the video on their site then copy the link from your browsers address bar and paste it into the embed video blank.
Note: This will add the video directly to your website. The video will be added to this sermons page people will not leave your site to view the video.
You also have an option to add a video file. This is not recommended but it is possible. Just click the add file button to add the video file.
Add Sermon Audio
If you would like to add an audio sermon click the audio tab. The first option is for embedding audio from amazon or dropbox. If you don't use either just go to the next option to upload your audio file. You can upload audio files up to 100mb but if your audio files are over 10mb I would highly recommend optimizing them for the sake of your listeners.  See Optimizing Sermon Audio for more information.
The last option on this tab is an option to show a download link. If you'd like listeners to have the option to download the audio file select this option.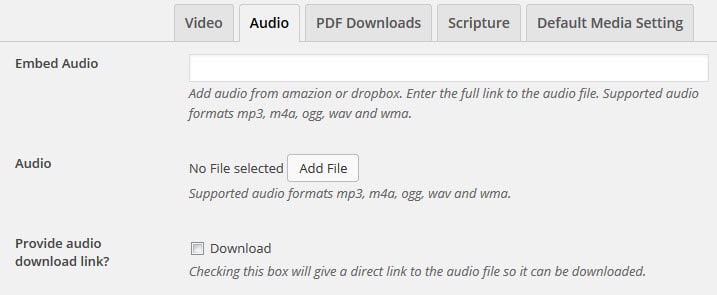 Add PDF of Sermon or Bulletin
If you'd like to add a PDF download of either your sermon text or the bulletin that goes with this sermon click the PDF downloads tab. Click add file and add the PDF file. You can add other file types but every device can open PDF files. If you add a word doc for example users on iPhones can't view that file.

Add Scripture
If you'd like to add Scripture that goes with the sermon click the scripture tab and add it there.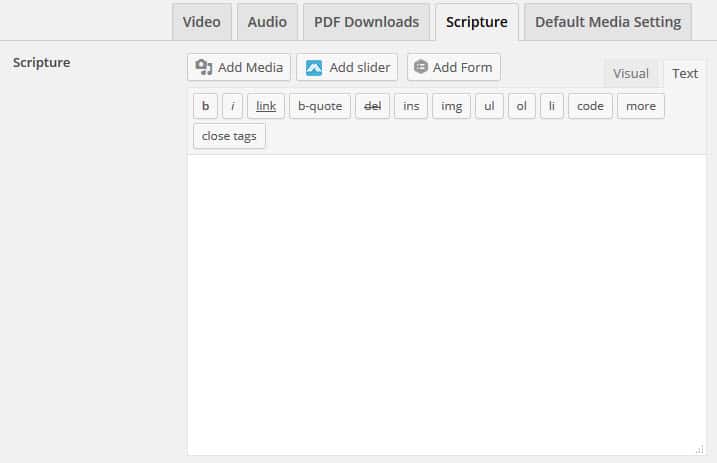 Default Media
On the default media tab you'll find an option that allows you to set the default media visitors see when they view this sermon. This setting will override the default set in sermon settings. This is normally only used if something is different about this sermon. For example if most all of your sermons have audio but no video you'll likely want the default in sermon settings set to audio. But if you have a video of this week's sermon you may want to set video as the default on that one sermon.

Add Sermon Text
The next option is the sermon text option. Depending on the the "Always Show Sermon Text" option in sermon settings anything you add here will either shop on the text tab (Always Show Sermon Text unchecked) or will show under all the other media types (Always Show Sermon Text checked).
That makes this a very flexible way to add content to the sermon's page.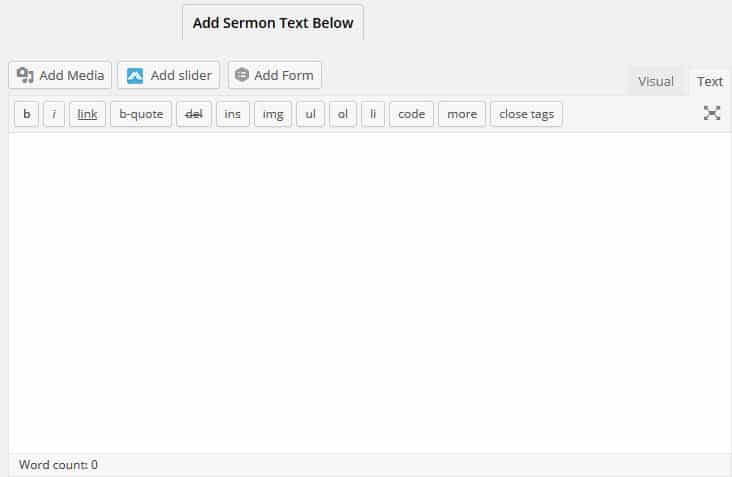 Add Custom Header Image
If you would like to add a page header to this page add it in the custom page header area. If you don't add a page header here the default header image set on the sermon settings page will show. That is of course if your design has a page header on the sermon pages. Most do but some do not.

Add Excerpt (Short Description)
The excerpt is a short description of the sermon. If added this short description will show on sermon list pages.

Publish Sermon
If you want to save the sermon but not make it live on the website click the save draft option in the upper right. If you want to save the sermon and make it live on the website click the blue publish button.

The sermon system will automatically build the sermon page using the media you provide. Any media types not added will simply not show as an option on the website. So for example users of your site will only see a video link if you've added a video.
Page Builder 2.0 (Site ordered after March 2015)
Page Builder (Site ordered before March 2015)
Please keep in mind we are always here to help. Even after the setup is complete don't hesitate to contact us if you have a question. When you login to your website's admin area you will see these articles on the dashboard for easy access.