We had a customer ask for an event countdown so we added event counters to all church websites. There are 5 different layouts all shown in the graphic below.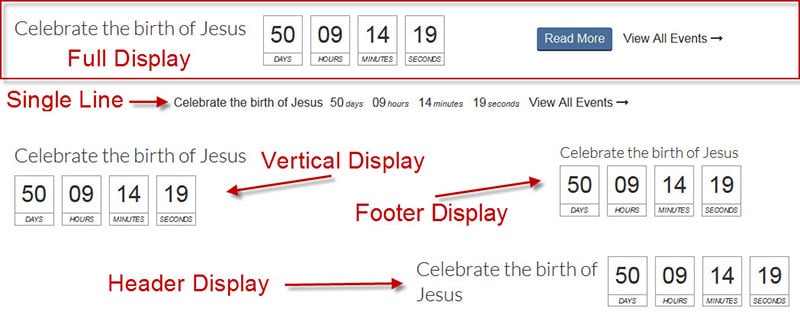 Full Display
The full display option is used on a page where you want the counter to use the full width of the page. This will draw the maximum attention to the event.
Single Line
The Single line counter is another full width counter but it's more subtle than the full display.
Vertical Display
The vertical display option is good for situations where you only want the counter to use 1/3 or 1/4 of the page width.
Footer Display
While footer display can be used anywhere it was designed to perfectly match the style of other items in the footer of many of our church websites.
Header Display
Like the footer display the header display is not limited to use in the header. It would also work well in pages where you want the counter to use 1/2 or 2/3 of the page width. It was designed to fit in the header area to the right of the logo.
If you'd like to change colors or have a need for an additional counter layout just contact us.